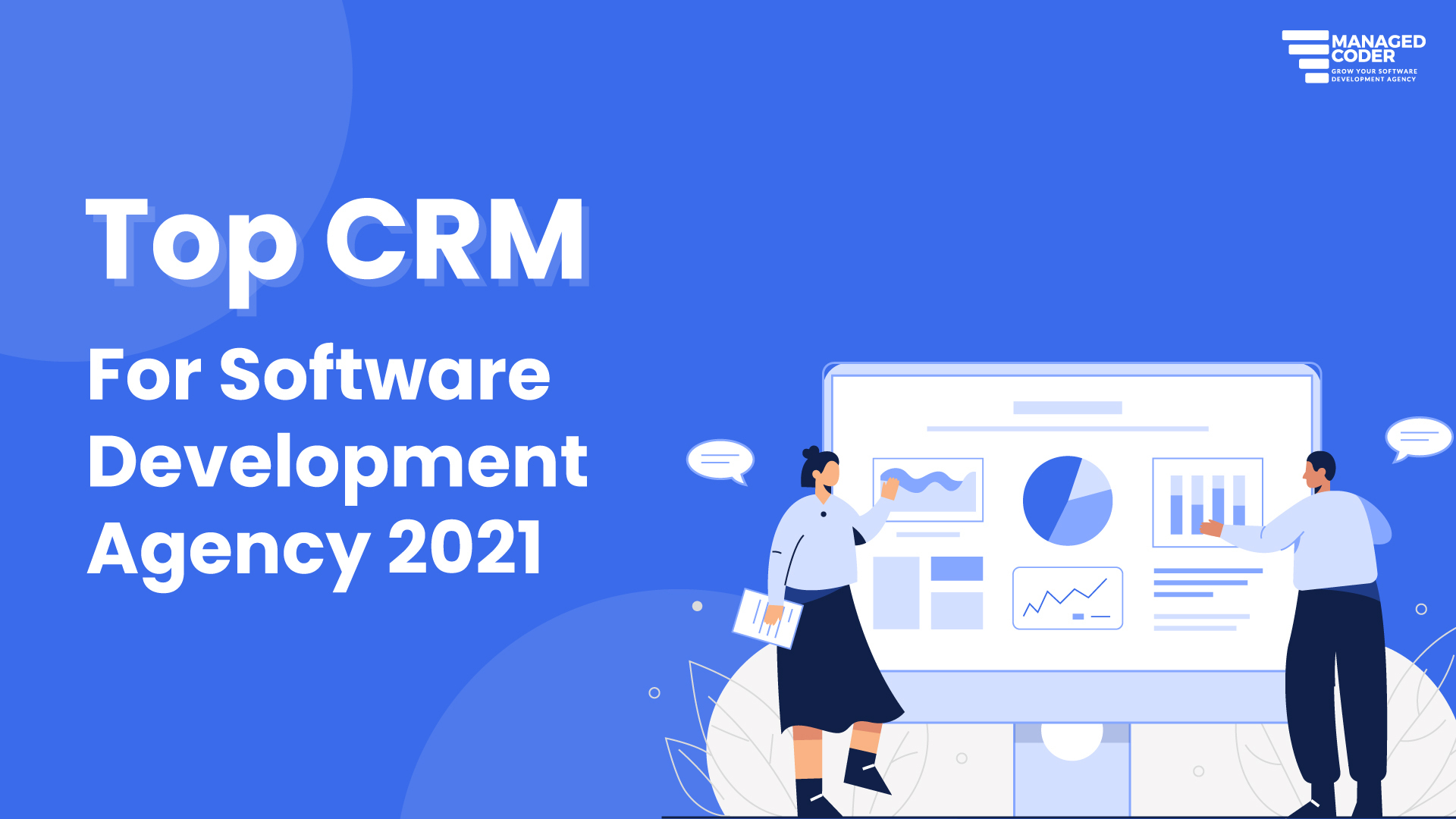 As a software development agency owner, you may perfectly outline tasks, appoint the right key players on your team, and set a timeline for every project. Yet, this isn't enough to run a successful business. Why? It's because you also need to establish a one-on-one relationship with your niche audience. Your customers need to feel respected and appreciated to continue doing business with your company. This is where CRM (Customer Relationship Management) comes into play — the process of developing a bond with your customers that not only creates loyalty but also promotes a continuing workflow system. 
Using CRM software tools makes it seamless to create an easy-to-use interface to store data as well as have uncomplicated interactions. Keeping this in mind, here are the top CRM tools that make it easier for your software development agency to form long-standing, successful bonds with your customers. 
1) Salesforce
Salesforce is the best CRM software for companies with very specific needs, looking to expand sales/marketing/commerce and business activities from anywhere in the world through a simple and easy interface. 
Features:
Comprehensive sales forecasts

Lead management to track leads from beginning to end

Personalized dashboard updates for real-time representation of business

Efficient response to leads and log calls

Complete visibility that instills trust among customers
2) Freshworks CRM
For fast-paced sales teams who conduct calls and need to collect data from these calls efficiently, Freshworks CRM is an essential tool on the CRM software list. 
Features
Top-notch communication tools such as built-on phone to quickly make and receive calls

Customizable web forms for storing visitor information

Customer 360° view to understand clients well

AI-based deal insights to obtain exceptional deals

Activity timeline helps to understand the level of participation
3) Sugar CRM
Sugar CRM is a hassle-free, flexible CRM tool that focuses on the customer through AI (Artificial Intelligence), marketing, sales, and revenue analytics.
Features
Multiple personalized dashboards for overviewing short-term and long-term goals

Sales automation so you never forget about follow-ups

Opportunity management for the guidance you need to close a deal

Pipeline management so you can oversee and direct future sales
4) WORKetc
WORKetc is an excellent place for the entire team to collaborate as it is a one-stop software solution for all your business activities via a centralized communication system.
Features
Gmail, Outlook, and Inbox Add-ins for seamless collaboration and communication

Central invoicing dashboard to generate, improve and track invoices

Offers tools that benefit remote workers

Boosts productivity by offering an in-depth activity history of each employee  
5) Keap
Keap is the best CRM for small business owners as it assembles everyday tasks and customer information in one place. This gets rid of overseeing repetitive tasks, which makes it easier to focus on expanding your business. 
Features 
Powerful campaign builder for improved lead generation

Creates a repeatable sales process to track leads, organize appointments

Automated messages that target the right audience 

A business line to separate work calls and messages
6) Zoho CRM
If you are searching for a CRM software that is punctual in its approach to find and engage with customers at the right time while also generating revenue, Zoho CRM works wonders.
Features
Measures the best communication channel to connect with customers

Easily keeps track of key performance indicators like future and current trends

Ideal for beginners owing to onboarding and training programs

Seamlessly import data from spreadsheets 

Omnichannel communication so customers can interact via phone, email, live chat, and social media
7) Hubspot CRM
Hubspot CRM offers complete visibility of your sales pipeline, right down to the last minute through a dashboard that is easy to use. 
Features
Neat and uncluttered visual reporting dashboard to track leads and sales

Advanced features include enterprise software for content management, customer service, operations, etc

Automatically tracks sales activity

Uses sales data to enhance the performance of the team
8) Insightly
Based on the information of every customer, Insightly works to create simple workflows which prove to be very effective for small businesses. It also possesses business and project management features. 
Features
Easy to use content design and testing tools that lend a personal touch to marketing campaigns

Automatically examines inventories, assign tasks, and sets milestones 

Relationship link building that acts as referrals
9) Creatio
Creatio flawlessly brings together customer service, marketing, and sales processes so that you obtain one clean, single platform to take your marketing and sales visions forward. 
Features
Pre-set templates, apps, and vertical solutions so that platform functionality is improved

Effective account and contact management system that fosters long-lasting customer relationships

Data enrichment that collects vital data and improves lead scoring

Creative business app solutions to make platform functionality better 
So there you have it. Running a business can have its ups and downs. However, there is consolation in knowing that you, as a business owner, can streamline your services with these CRM tools examples. It gives you the assurance that you stay in touch with your customers while also managing downtime so that productivity and efficiency at your workplace are not tampered with. 
Don't forget to share this post!