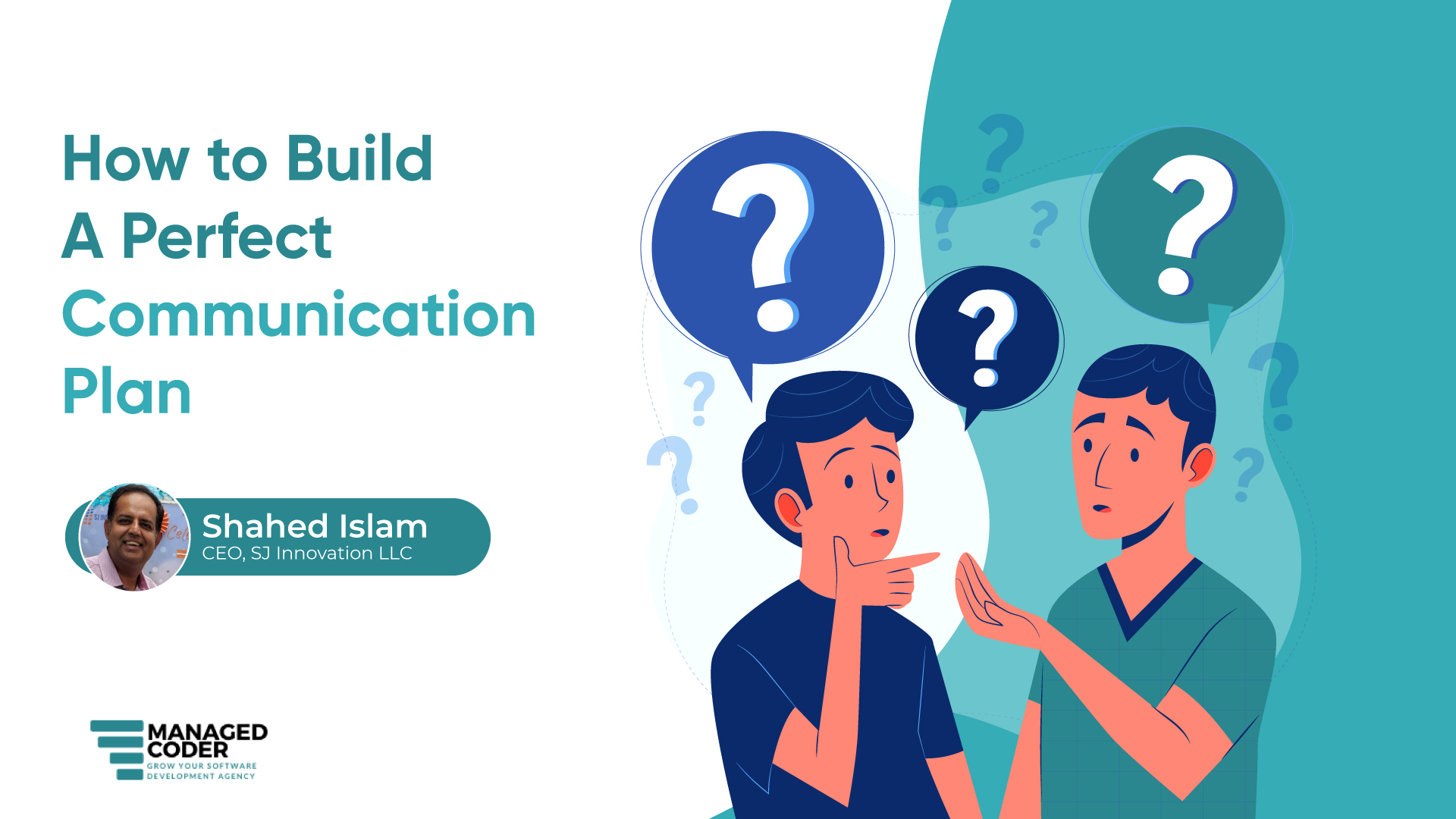 Modern marketing lays its foundation on the concept of storytelling, which in turn is driven by a sound communications plan—need of the hour for software development agencies around the globe. A good communication plan not only helps you develop a clear understanding of how you can reach the right audience with the right messages, but also provides a meaningful way to move the needle for your organization. Now think of what a great communication plan would do. 
But before you put a communication plan in place or start building one, it is important to understand the importance of having a communication strategy in the first place, and also how to document your plan from start to finish along with the ways to execute that plan effectively. Let's get started!

What Exactly is a Communication Plan?
It is quite obvious, by the name, what a communication plan is all about, yet there are a few different ways to understand what a communication plan entails. It is often accompanied by some misconceptions, such as, is it internal or external, can you reference a crisis communications strategy, etc.
To help you understand the concept better and to remove that ambiguity, here is a simple definition of a communication plan: it is basically an end-to-end plan that can be used for delivering strategic messages to key audiences to help you drive positive business outcomes.
In a nutshell, you need to identify who you are trying to reach, what message you want them to receive, and how you will try to reach them. Having clarity on these simple questions can help you build a strong communication strategy for your organization, be it internal or external.
What Are the Benefits of Having a Communication Plan?
All kinds of organizations, irrespective of their size and location, can benefit from documenting an actual communication strategy. It brings a lot of benefits for various domains:
In-house marketing teams can use it to gain a strategic advantage

—

from SMBs all the way up to major enterprises.

Agencies can use it for meeting their internal goals and client expectations. 

Non-profit organizations can use it for planning cost-effective social media and PR strategies.

Marketing and communications consultants can accelerate their efficiency while meeting client requirements seamlessly. 
How to Establish a Communication Strategy? 
Before communicating the value of your organization, you have to understand who you are, and how you serve your target audience. The easiest way to go about it is by creating a brand voice that defines you. You can include what benefits your service provides and who is your target audience to bring transparency. 
Establish Clear Levels of Communication
Functional and Projectile are the two most common and effective types of communications that are used widely by software development agencies around the world. Here is a breakdown of these two: 
Projectile Communication
Here, the core team member gives direct feedback to project team members by directly commenting on the task.
At this level, the core team member can approach the project manager in case a team member's performance hasn't improved and it needs to be addressed immediately. 
At this level, the core team member can reach out to the Team Lead if a problem or issue still exists, and the team lead will handle the situation.   
Functional Communication 
Team members provide direct feedback to other team members on Level 1.
Level 2 usually involves a team member approaching the Team Lead if they notice any functional issue, feedback, or problems in any internal matter.
If the issue is related to management, the Team Lead takes the issue to Management as generalised forms. 
In case the team lead fails to address the issue in a given time, the team has the right to raise a complaint to the manager.
Identify the Person Responsible
Once the desired approach for the communication strategy has been chosen, you need to decide who will be responsible to implement the same. 
Ideally in the Functional structure, the team lead is responsible for all the communication pertaining to the functioning of the team. 

In the case of the Projectile structure, the project manager is responsible for all the communication pertaining to the project.
Identify Your Unique Selling Points
Your USPs will help you stand out from the crowd since they are the points that make your business and its products/services different. It is something that only you offer, in a way only you can offer and no one else can.
Talk about what you offer, especially by mentioning something that no one else does in your market—whether that's higher quality, a lower price, a better customer experience, or a new technological innovation. 
Mention the same, explicitly. In case you are having a tough time while identifying your USPs, it most likely will be the case that you will have a hard time convincing prospective customers to buy from you instead of your competitors. Hence, spend some time at this phase. 
Endnote
You should also focus on identifying your business objectives, developing your audience or customer personas, understanding other key publics, determining what the world needs to know about you, choosing your channels of presence, planning a message matrix, determining your important events and campaign plans, and setting your communication goals while measuring their impact on the society. 
Don't forget to share this post!