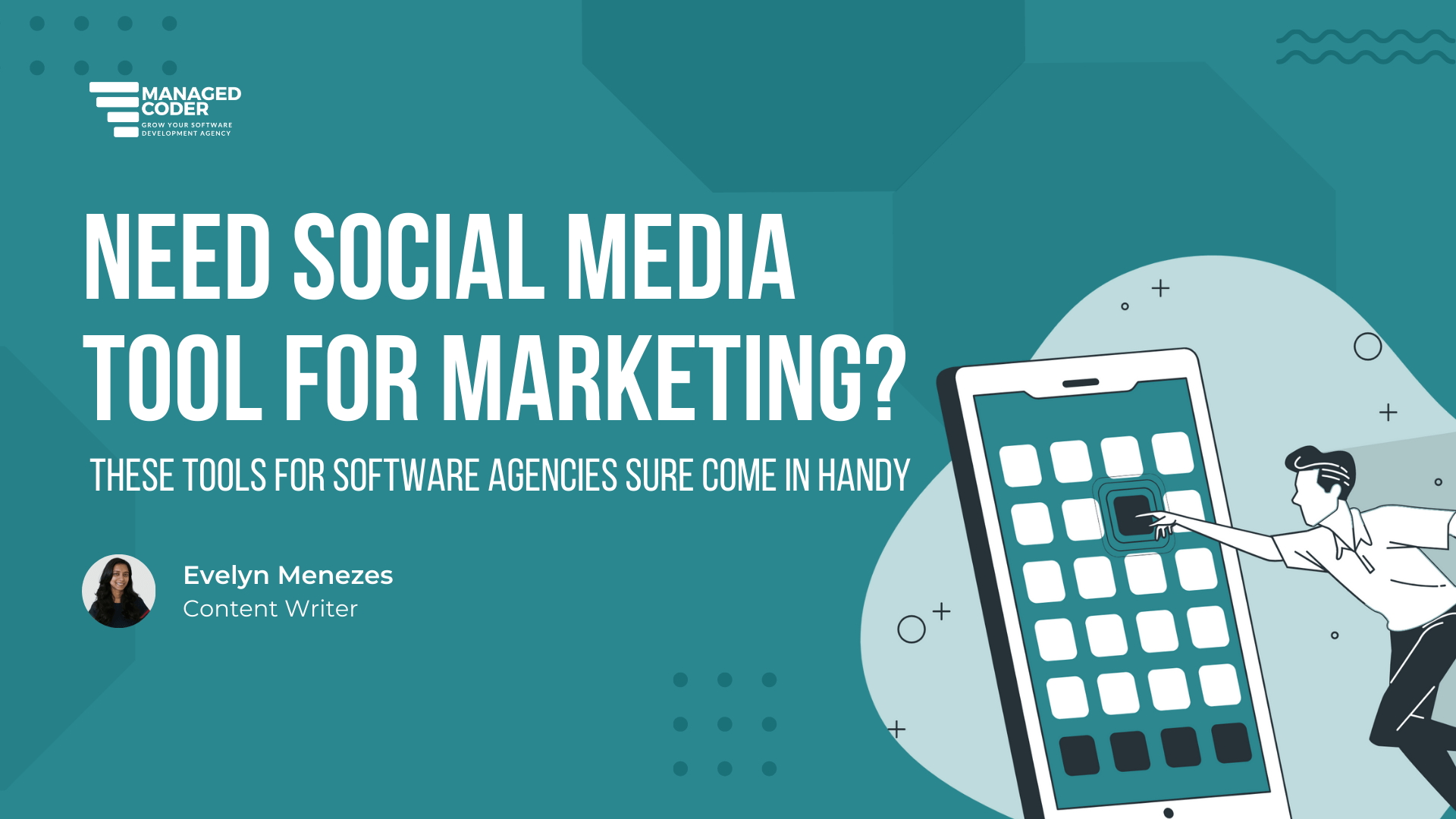 To say that social media has taken the world by storm these days is an understatement so naturally, using social media as a tool for marketing is a win-win situation. After all, it's become such a magnanimous part of our lives, it's hard to imagine a day without going through your daily scroll. Given its massive significance, one element is a no-brainer — if your business isn't on social media, it does not exist in the eyes of the public. 
For small and medium-sized agencies, social media as a tool for marketing is one of the most powerful strategies available. They can be used to drive traffic to your site, entice users to your brand, and stay connected to existing customers. 
Having a social media presence that makes people scream "oh wow!" is an art but there's plenty of legwork involved. However, fear not, that's where social media management tool free trails come into the picture. Accordingly, you can decide whether going in for the paid version makes sense. But wait! We're getting ahead of ourselves. Let's first finalize the basics. Here is a list of some of the best social media apps that can help you save time and even up your social media marketing game. Remember, with the right social media tool for marketing, anything is possible!
In 2021, Facebook hit around 2.91 billion monthly active users last quarter. You see, it's still a prerequisite for companies to be active on this platform or any other social media. It's also the place where Buffer can work its wonders. Want to know why it is a good social media tool for marketing?
Features
Offers a fuss-free, intuitive interface to schedule and publish posts

Supports Twitter, Facebook, Instagram, LinkedIn, and Pinterest

Checks performance and accordingly creates better content and messaging

Easily schedules updates with browser extensions and mobile apps

Organizes a seamless lineup of posts via the Social media calendar
Planable is the ideal social media tool for marketing if you're looking to collaborate and give your social media posts that added edge and simplify as well as speed up the creative process of social media teams. You can use this social media management tool free and then decide whether it is the ideal fit for you. 
Features
 Sleek, functional, and customized calendar to plan social media schedule

Collaborators gain access to a single creative plan with different permission levels

Creates posts that resemble live versions

Provides multiple views

— grid, list, calendar, and feed view

— for easy preview of posts

Lets you comment in context to avoid confusion 
For seamlessly managing and getting accurate results for all your social media management needs, Hootsuite is a social media tool for marketing that works impressively. Simply automate post scheduling with a few simple clicks.
Features
Compatible with over 20 social networks —  YouTube, Pinterest, Instagram

Queue posts conveniently with full scheduler 

Access image assets directly from the dashboard to simplify posting

Examine trends, brand mentions, and blend conversations from supported social networks in a single thread

Custom insights on top-performing content with social analytics dashboard
Rebrandly is an intuitive link management platform that is widely used by various industries and forward-thinking companies for good reason. 
Features
Track and share short URLs via a custom domain name

Traffic routing, link management, analytics, etc

Seek guidance from a committed account manager to enhance your ROI

Create folders for teams to connect/collaborate on branded links flawlessly

Easy-to-use platform that manages technical setup for you
Promo Republic is another foremost social media tool for marketing and works along the lines of Buffer to strategize, manage, and schedule posts on time.
Features
Works perfectly for remote teams — consolidates data and creates rules for on-brand content

Asset management keeps pictures, videos, templates under control while making it easy for specific teams/markets to access content

Organize and distribute content based on brand guidelines easily

Effective social media management to quickly analyze results on dashboards

Enable on-the-go sharing and posting of branded content so local partners can show their brand authentically 
If you are looking for a cost-effective social media tool for marketing, Sendible, ticks all of the boxes. Make use of this social media management tool free trial to get a feel of how it works. Its pre-built reports and ability to set up keywords to target specific areas of interest make it almost effortless to keep a watchful eye on any social media mentions of your brand, areas of interest, or competitors.
Features
Decipher most engaging content using one-click reports

Streamline workflow with post preview, bulk scheduling, and content suggestions 

Find help and assistance from real people via webinars, live chat, and more

Seamless collaboration and approval of social media posts

Choose to obtain positive or negative alerts 
So there you go! Be sure to take a look at these top social media tools for software agencies and pick the best social media tool for marketing. After all, today, planning and scheduling posts follow a tried and tested formula. You can't afford to merely wing it! 
We hope we've managed to mention at least one tool that fits you perfectly like a glove and you were able to see how social media as a tool for marketing can be used effectively. But if we have skipped that one special social media tool you love, please do let us know about it!
Don't forget to share this post!