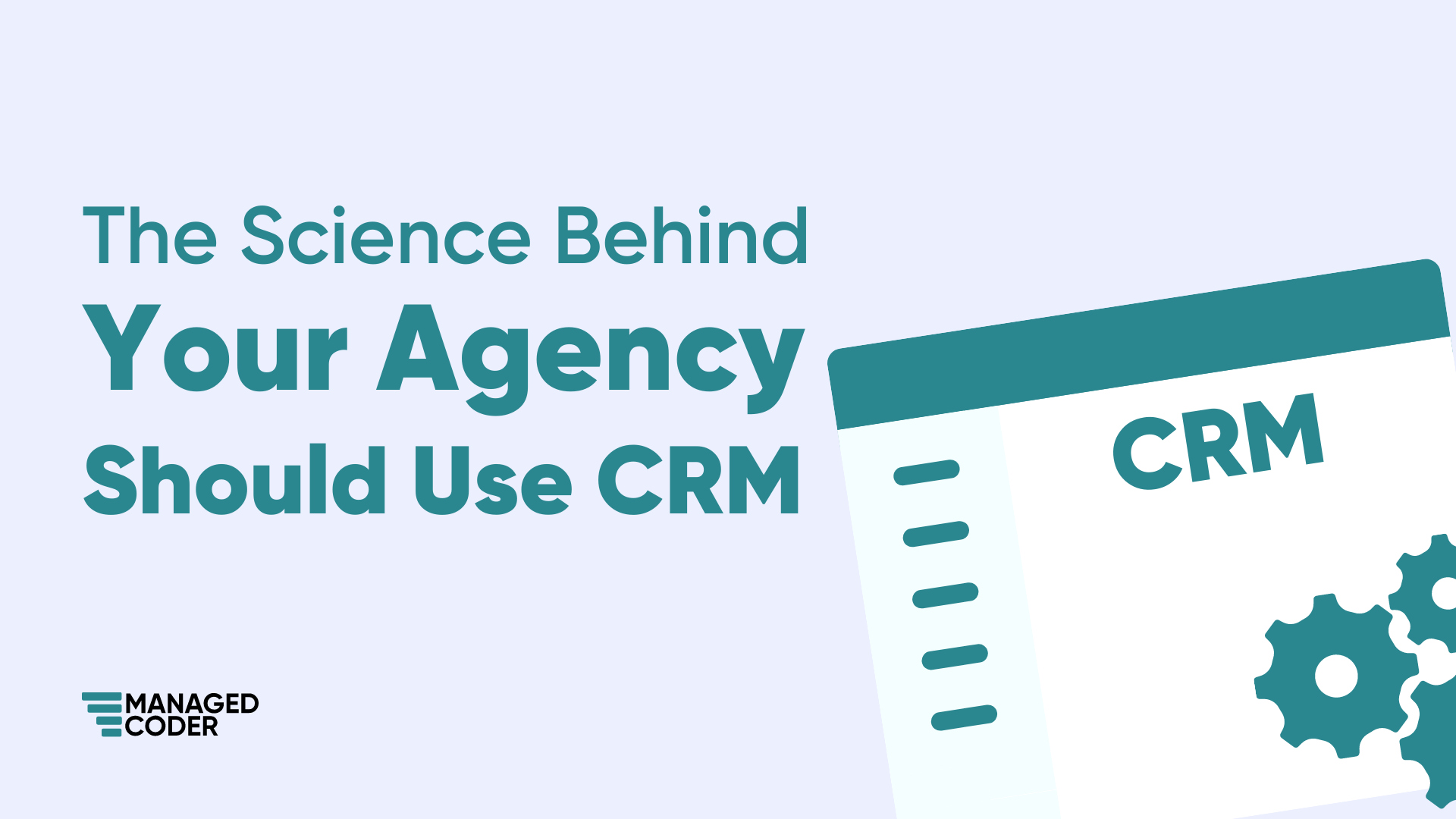 You may have heard a lot about CRM for agency but what is it all about? What does CRM stand for and what are the benefits of a CRM system? Well, to start with, CRM is Customer Relationship Management and is defined as 'a process in which a business or other organization administers its interactions with customers, typically using data analysis to study large amounts of information.'
It has never been more difficult to keep your present clients happy while attracting new ones. Reaching clients quickly and effectively with meaningful and pertinent information is now more crucial than ever as markets remain saturated and industries become more competitive. So how do you maintain your lead? That is where the benefits of a CRM come ino the picture. A CRM is made to assist your clients in managing and overcoming problems like these.
Still not convinced? Here are five benefits of a CRM software and reasons why the clients of your software development agency urgently need one.
Give your customers greater value.
Using a CRM for marketing agency enables you to customize your customer's communications, goods, and services. It records particular details about your customer's habits and actions to enable you to target them more effectively. And you may use your content strategy to target them. By using a CRM for your agency, you can determine whether a client is seeking to buy from you again or for the first time, how they learned about your product or service, and whether they've just made a transaction.
With this knowledge, your customer may send messages, offers, messaging, and other things pertinent to upgrades that would be the best for the plan they bought. This will inform the consumer and give them greater confidence that your client understands their needs and wants, increasing their propensity to buy from you.
Locate and close more transactions
Finding clients that are both qualified and the perfect match for your services is crucial in the competitive market for software development businesses today. Your business development team may get to know your prospects well before the first conversation by combining a CRM with a lead intelligence solution like HubSpot. This makes it possible for you to operate a lean business with little to no waste in the sales process, and it may greatly improve your chances of attracting, acquiring, and keeping consumers who will help your business grow for years to come.
Set reminders to avoid communication lapses
Why is CRM important to an organization? Many agencies lack a professional sales staff, so the owner, who is already stressed and continuously juggling business operations, team management, daily tasks, and attempting to bring in new business, is left to handle sales.
If the store is overworked in this sort of busy atmosphere, sales activities may occasionally take a backseat to production. Additionally, it is crucial to provide sales prospects a really great first impression because they typically don't trust the agency yet. The danger of losing a prospect due to a sales activity falling between the gaps is something that agencies cannot afford. The agency values every one of its prospects. Care must be used when handling them.
Expanding your company.
The capacity of a CRM to support business expansion is perhaps one of its most significant benefits of a CRM system. Because a CRM system may assist automate communication and activity across many channels, salespeople no longer need to spend the bulk of their time prospecting.
A CRM may be used to collect leads from online forms, downloads, and traffic from the websites, emails, webinars, trade exhibitions, etc. of your clients. Salespeople may be given leads right away, providing them the chance to get in touch with potential clients while everything is still fresh in their minds. By investing in top-notch CRM for agency, you can sit back and watch the sales revenues of your client's increase. You are making money if they are as well.
Increase the Quality of Your Conversations
What CRM means? It's a platform that organizes efforts, monitors outcomes, and offers transparency into the sales process. It is the equivalent to HubSpot for inbound marketing in the world of sales. A successful CRM benefits three parties: Sales representatives are more organized and engage in more worthwhile, personal contacts with prospects, which benefits the vice president of sales; marketers have a greater understanding of the efficacy of the leads being created.
In order to be more engaging partners to our clients and have more fruitful dialogues with prospects, it is critical to have a record of conversations, emails, and consumer data available as your agency and relationships develop.
To conclude why is CRM important to an organization:
CRM is a great tool that helps businesses boost productivity and earnings while also increasing customer happiness.
CRM can be tailored to match almost any sort of organization because of its large range of tactics and uses.
It is far preferable to begin using a CRM for your company before you actually need one.
When deciding which CRM solution to utilize, it's critical for businesses to take their operations and sales process into account: Which client data matters to your sales process? How many times do you typically get in touch with a customer before they buy? How significant is recurring business to your business? Not looking into your CRM alternatives as a business owner might be a significant mistake for your agency.
Don't forget to share this post!