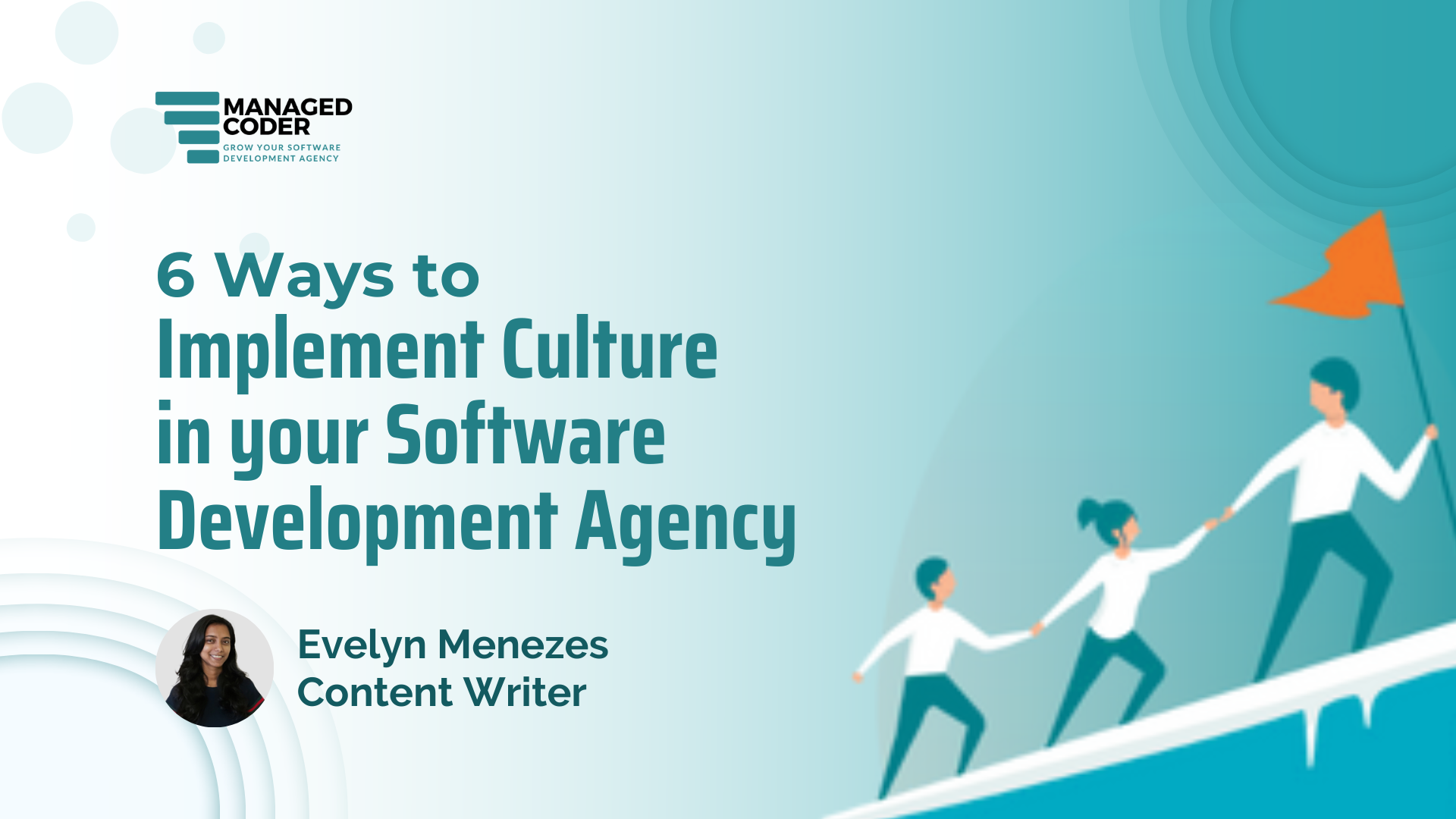 Company culture is the everyday reality of agency life. As an owner of a software development agency, it's that crowning stroke that sets you apart from the crowd. 
Why? 
It's not just a buzzword or catchphrase.
It's the secret to retaining and sustaining a work team. All the effort and money you invest in driving sales and one-of-a-kind marketing will do little good if you cannot nurture a stimulating and supportive environment for your employees to feel encouraged and inspired every day.
Drawing in and holding onto good talent isn't about the perks, it isn't about the balance sheets, mission statement, or the various HR policies in place — it's about the relationships. Employees are the backbone of your operation and if they aren't happy, other aspects of your business begin to suffer. 
Why the focus on company culture?
Put simply, company culture makes up the organization's beliefs, values, working style, core values, management style, and workplace ethics. It should be deliberate so that it comes naturally to almost everyone at the workplace — right from the CEO to the newest intern. 
Having a thriving and encouraging company culture helps to:
Improve the company's brand image for the better 

Steer clear of toxic work culture because if customers get a whiff of this at your workplace, it can reduce sales

Attract better talent and increase the likelihood of employee retention 

Increase efficiency as company culture affects productivity levels of all employees
But, how do you decide where to begin? Here are 6 ways you can seamlessly incorporate culture into your software development agency. 
1. Ensure culture is defined and have a culture deck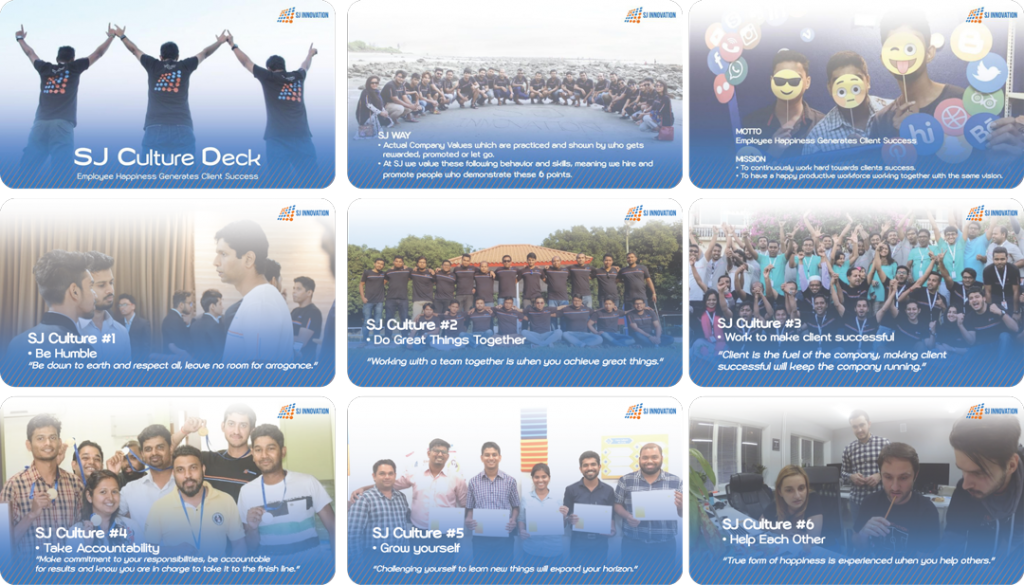 Well begun is half done so see that an underlying culture is established. 
First off, develop core values based on the positive behaviors and ethics showcased by team members.

Organize brainstorming sessions with the team and gain feedback so that it turns into a collaborative effort.

Remember, the core culture shouldn't be defined by senior management, but after consulting with members of a company.

Once qualities of healthy workplace culture are set, set it into motion and put together a culture deck.

Everyone should have access to and view this culture deck whenever they want to.
For inspiration on culture decks, you can have a look at Hubspot culture code and SJ Innovation culture deck.
2. The onboarding process needs to have a core culture defined for new employees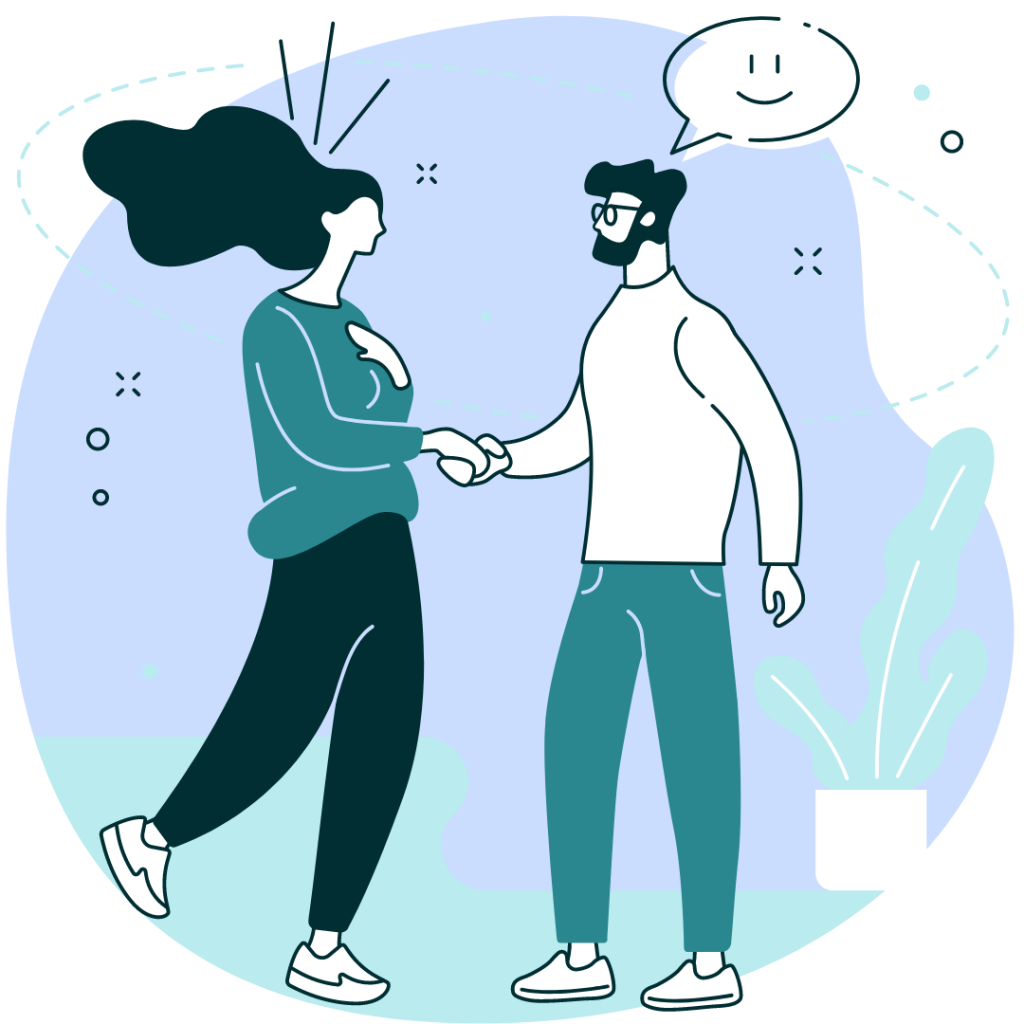 Get new employees acquainted with your core culture beforehand. After all, first impressions are last impressions. 
Incorporate culture into the minds of new employees beginning from the hiring and onboarding process.

When hiring team members, look to ensure they match your level of technical expertise, skills, and style of working.

Scrutinize

whether a candidate makes the cut during the first interview itself. 

Ensure the management team and HR have a culture meeting that points out the kind of candidates your company should be looking for. 

The candidate may not have all the core culture elements, but examine whether the attributes and qualities they

possess

, make them culturally align with your company.
3. Organize a monthly meeting with the CEO
Who better than the CEO of a company to reiterate the values that make your organization what it is today?
After all, you have got to be intentional with your core values to ensure your company stands by them. 
Make certain you, as the CEO of your organization, conduct a monthly meeting with team members. 

It's important to develop and nurture a safe environment so that opinions and suggestions can be expressed without any bias. 

The CEO can come up with innovative ways how they can explain cultural values in detail whether through

personalized

emails or videos. 

They can remind senior employees about the core culture so they can convey these takeaways to other team members.
4. Have regular culture sessions from time to time

For instance, send over articles

and videos so team members can read, watch, and learn.

Even the senior management can conduct these culture sessions

through a presentation and then have a healthy discussion regarding the topic presented. 

Ask team members for personal examples of how they relate to the topic in question and gain insightful thoughts through the back and forth of opinion. 

It offers a glimpse of how new employees need to conduct themselves and helps the employees who've been around for a while jog their memory and behave accordingly too.
5. Blend core culture into the decision-making process!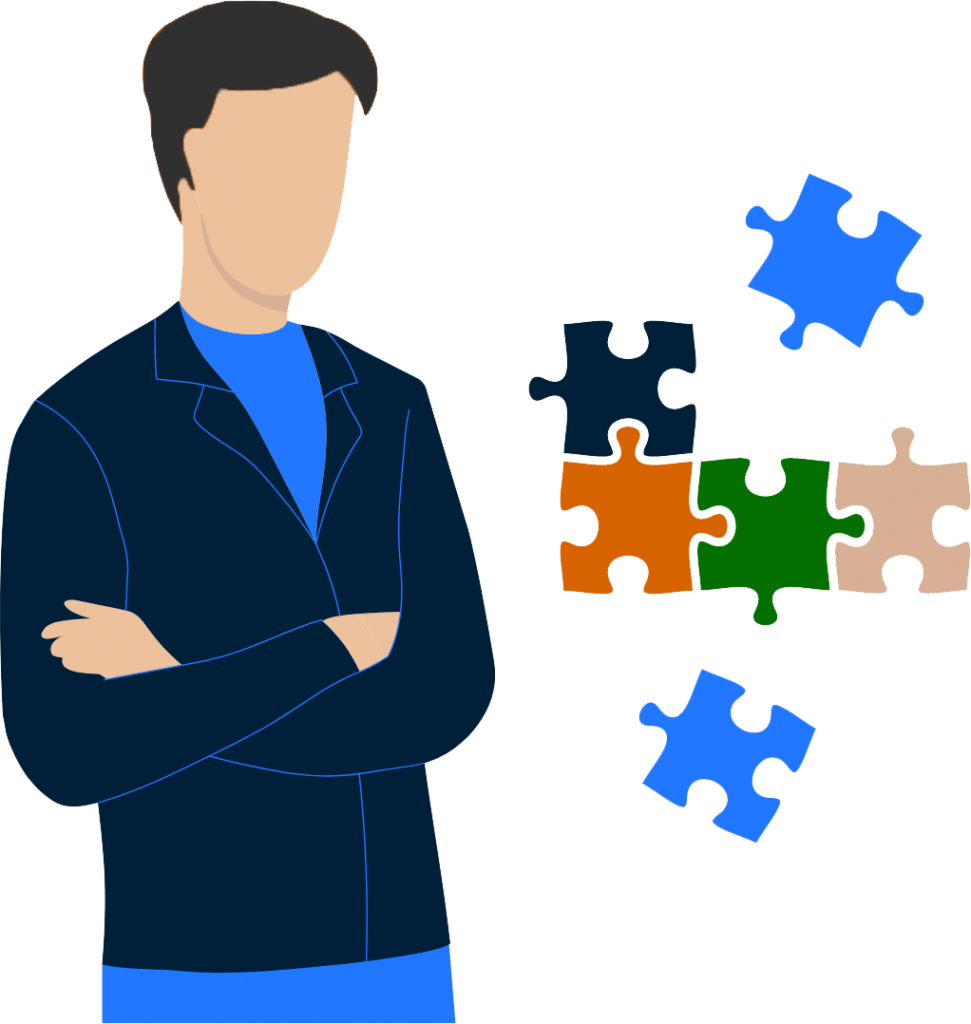 One can't build workplace culture within a few days —It's about what you do bit by bit, every day that makes a difference.
It's only when senior management makes a conscious effort to practice and enforce it, that your organization begins to thrive in it.
Instead of just writing it down in the handbook or company policy, stand true to core values during major decision-making processes. 

Everyone, right from stakeholders and senior management to HR, should endorse and embrace company culture when performing tasks, interacting with people, and through everyday behavior. 

Even briefly mentioning it during work activities can all make a huge impact!
6. Other ways to incorporate culture
Practicing creating the culture you envision is a process that sometimes comes with roadblocks. So it's important to take a step back especially if you witness proceedings heading south.
Be aware of which behaviors need to change and which don't so accordingly, you can reward people that exhibit culturally aligned behavior and vice versa.

Maintain open communication by hosting frequent meetings and one-on-one sessions while always being available when your employees need help. 

Be a transparent leader as much as possible as it helps to build trust and respect among your team. 
Remember, there's only one sure-shot way to attract and retain good employees —a work culture that inspires new employees and impresses potential hires! 
As a software business owner, culture should be at the top of your priority list if you want employees to feel supported, stimulated, encouraged, and motivated each day.
All in all, these tips are sure to help you implement a work culture that thrives and is a joy to come to each day!
Have some ways in which you have implemented culture in your agency successfully too? Please let us know. We'd love to hear about it all!
Don't forget to share this post!