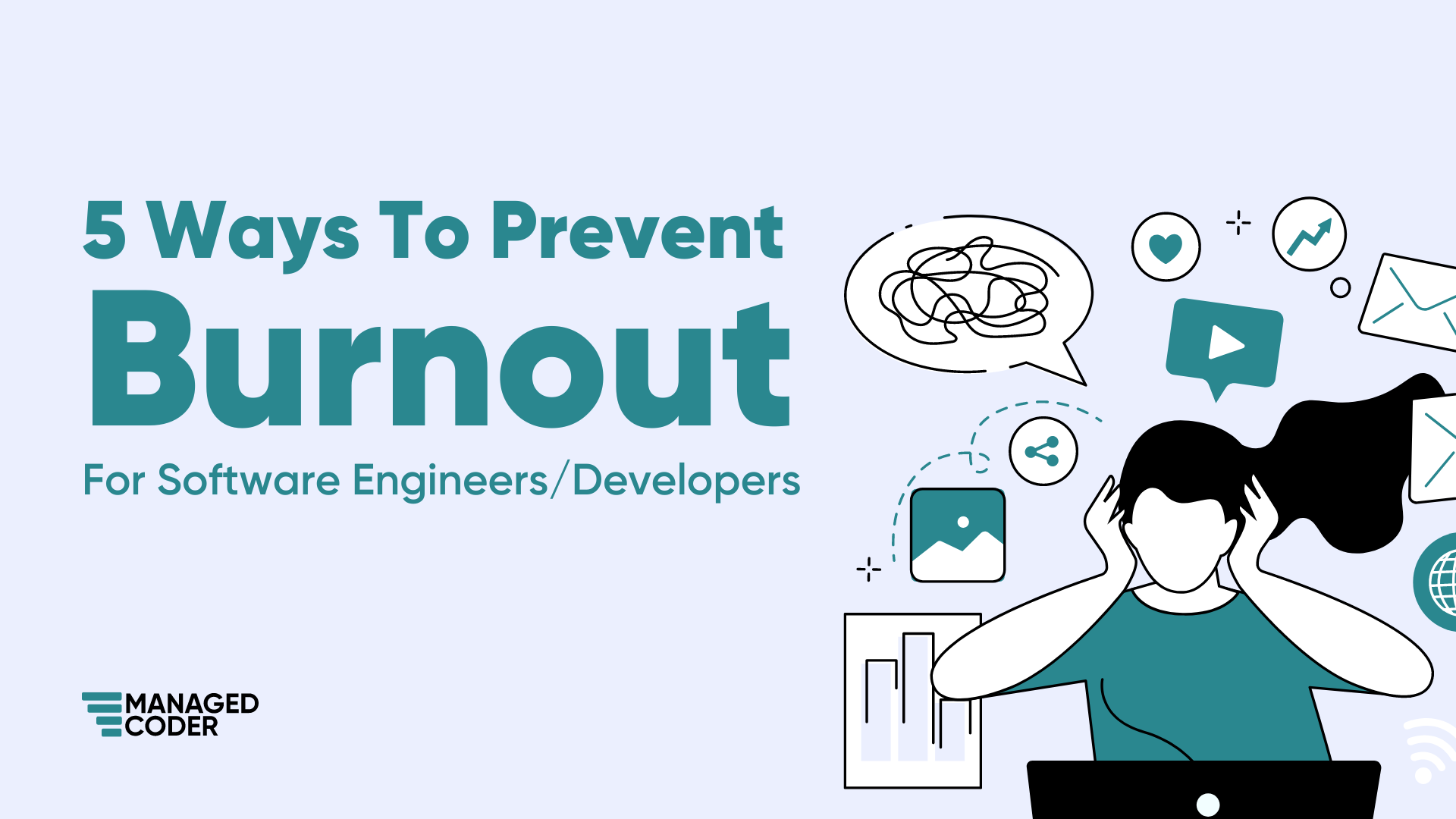 Remote working has revolutionized the working world by introducing adaptability and convenience, especially for those working in software engineering and development. Software engineers have the option of working from home, and 86% of developers do. In the last several years, the number of engineers who work remotely has skyrocketed, with just 19% doing so fully before 2020.
However, working from home has welcomed a new wave of issues, the most pressing being employee and employer burnout. The subsequent, blurred boundaries of work and rest can lead to individuals feeling overwhelmed and struggling to wind down post-work. 
This phenomenon is more commonly referred to as burnout. Recently, the World Health Organization made changes to their burnout definition to be more specific. Burnout is explained as 'a syndrome conceptualized as resulting from chronic workplace stress that has not been successfully managed.' As an agency owner, it is your responsibility to care for the physical and mental well-being of your team. While pushing individuals to break parameters and reach new heights is crucial to growth, you must prioritize their health during this process. 
This article will discuss 5 top tips to prevent burnout for software engineers/developers and how you can implement them throughout your software development agency. 
5 tips to prevent burnout
Learn how to spot signs of burnout
Often the signs of burnout are not obvious, but more a culmination of behaviors that build up over time. It's crucial to catch up with employees often to check on their well-being and discuss any obvious behavioral changes. 
Signs of burnout are as follows:
Feeling tired or drained most of the time

Feeling helpless, trapped and/or defeated

Feeling detached/alone in the world

Having a cynical/negative outlook

Self-doubt

Procrastinating and taking longer to get things done

Feeling overwhelmed

Moodiness and irritability

Inability to make decisions

Loss of interest/motivation
By learning and spotting these symptoms, you can intervene and put measures in place to avoid burnout entirely. 
Software developers/engineers often work in isolation from home with minimal interaction. Over time this can severely impact mental health and lead to burnout. As an agency owner, you should take initiative to organize a weekly activity or set a designated day to be in the office. 
For example, an activity each Friday within the office will give employees something to look forward to all week and allow them to enjoy time with their colleagues. This also doubles as a bonding session and helps to build team morale. For a more long-term goal, you could organize day trips or weekends away to 
Hybrid working (remote and office) is a feasible and adaptable method for many employees. Instead of committing fully to either location, allow your employees to decide which days work for them to be present in the office. Through this, they can maintain regular social interaction whilst keeping the benefits of remote working. 
Asking for help should not be a shameful thing. Create and implement a culture that enables employees to reach out for help and express their concerns. With this open dialogue, you can keep track of how your employees are feeling regarding work-life balance. 
Sharing workloads within teams can help lighten the burden and reduce that trapped feeling often signaling burnout. Furthermore, you should encourage cohesive rapport between team members so they feel comfortable delegating their tasks. Through this method, all the required work is completed without having a detrimental impact on a singular employee.
Reaching out for help and sharing workloads is key to reducing pressure and managing expectations. 
Endless studies have shown the benefits of regular exercise on stress reduction. However, the word exercise is often linked to rigorous and exhausting methods deeming it unappealing and inaccessible for many individuals. 
Moving your body in any form is beneficial for your well-being in the long run but doing it alone can be intimidating. Setting up friendly fitness challenges/competitions amongst colleagues can encourage remote workers to get moving. Or if several team members are in the office on the same day, lunch yoga or a gentle morning walk can help regulate stress levels. 
Your neurological system and cognitive functions can recuperate through exercise, allowing them to work more efficiently.
Since software developers/engineers spend a large portion of their day online, it can be easy to reply to messages or check your notifications. However, this ends up doing more harm than good.
By constantly checking their emails or maintaining an online presence, their brain cannot differentiate between work and rest. Consequently, they feel obligated to respond to every message/email regardless of working hours.
There will be instances where working outside of core hours may be essential, but it is still important to establish expectations for a regular workday. Regularly responding to emails over the weekend or in the evenings might make employees feel as though they are never done with work and cause stress. Over time this can build bad habits and a poor relationship with work causing burnout.
In order to avoid this, encourage employees to set clear boundaries for their working hours, turn off notifications and relax over the weekend. 
To conclude this article has covered several symptoms of burnout and 5 methods to mitigate this for your employees. Whilst it is inevitable that your team may feel stress at times, it is important to communicate and not let this build-up. 
Burnout is difficult to avoid or recover from, especially for remote employees who are driven and just want to demonstrate their abilities.
Remote leaders may improve the working environment and guide their teams to success by establishing the correct workplace culture, fostering communication, and stressing all the methods remote workers can take to avoid burnout.
Don't forget to share this post!